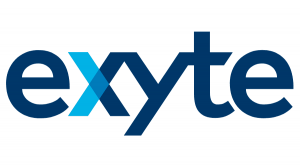 IT Risk and Compliance Manager (m/f/d)
Exyte is a global leader in the design, engineering, and delivery of facilities for high-tech industries. With a history of more than 100 years, the company has developed a unique expertise in controlled and regulated environments. Exyte has a truly global footprint, serving the most technically demanding clients in markets such as semiconductors, batteries, pharmaceuticals, biotechnology, and data centers. The company offers a full range of services from consulting to the managing of turnkey solutions – delivered to the highest quality and safety standards. Solving the most complex challenges, Exyte forges trusted, long-lasting relationships with its clients. In 2019, Exyte generated sales of EUR 3.9 billion with around 5,200 highly experienced and motivated employees. The company is ideally positioned to further strengthen its market leadership with its broad industry insight and its exceptional talents. 
Our people are our success. As one of us, you will contribute to engineering excellence for the high-tech markets of the future, including semiconductors, batteries, pharmaceuticals, biotechnology, and data centers. At Exyte, you will be part of a global community of challenge seekers who are ambitious and passionate about innovation. Together, we will build on our company's long history and keep on leading the way to a better world.
---
The IT risk manager is responsible for establishing and maintaining Exyte's overall IT risk management, which is designed to ensure that the company's IT systems and information assets are adequately protected. The individual in this position is responsible for identifying, evaluating and reporting on IT and information security risks in a manner that meets Exyte's regulatory and other compliance requirements. You will work proactively with the various business units and other internal departments and organizations to implement practices that meet Exyte's defined policies and standards for information risk management.
Explore your tasks and responsibilities
Manage all the risk-related activities of Exyte's IT organization, including budgeting, planning, testing, reporting and recommending appropriate remediation measures
Manage oversight and monitoring of risk mitigation and coordination of policy and controls with the different stakeholders to ensure that other managers are taking effective remediation steps
Ensuring IT compliance with the applicable legal regulations as well as internal corporate policies
Benchmark the risk management practices of other companies — particularly those in related industries or with similar business models — maintain an up-to-date understanding of industry best practices and monitor the legal and regulatory environment for developments that could require changes to Exyte's established IT policies and practices
Create, disseminate and (as required) update documentation of Exyte's matrix of identified IT risks and control
Ensure that controls are adequate to meet Security Policies. Conduct assessments and audits based on laws and regulatory expectations (GDPR, SOX, NIST, CIS Critical Security Controls, etc.)
Design and implement accurate and thorough governance gaps assessments to applicable laws, rules, regulations, and industry practices
Work directly with the business units and other internal departments and organizations to facilitate IT risk analysis and risk management processes, identify acceptable levels of residual risk
Design and conduct risk assessments

Manage the oversight of technical risk assessments, such as vulnerability scanning and penetration testing
Manage information asset and application risk assessments
Conduct risk reviews for new applications
Manage third-party risk assessments

Facilitate business alignment and communications by forming an IT risk management steering committee or advisory board
Review risk assessments analyze the effectiveness of Exyte's IT control activities and report on them — with actionable recommendations — to the CIO, the CISO, Corporate risk manager and IT managers
Follow up on deficiencies identified in monitoring reviews, self-assessments, automated assessments, and internal and external audits to ensure that appropriate remediation measures have been taken
Show your expertise:
Minimum Bachelor of Science required, with a focus on IT- or IT-risk-related disciplines (for example, security, privacy, business continuity management and compliance).
Basic knowledge of a broad range of standards and frameworks — for example, International Standards Organization (ISO) 27001, IT Infrastructure Library and ISO 20000, Capability Maturity Model Integration and Six Sigma.
Knowledge of common risk management methodologies — for example, Control Objectives for Information and Related Technology (COBIT) and Committee of Sponsoring Organizations Enterprise Risk Management
Excellent communication and presentation skills.
Fluent in English. German language is a plus.
An environment that inspires:
Engineer World Changing Facilities
Health & Well-being
Environment of Excellence
Career Growth
Commitment to an Incident-Free Workplace (IFW)
Global Opportunities
---
You want to be part of the Exyte team? We are looking forward to receive your application.
For further questions and information please contact us by phone +49 711 8804-1318. We are looking forward to meeting you.
Exyte Management GmbH
Kim Lisa Arnold
Loewentorbogen 9b
70376 Stuttgart
Exyte is an Equal Employment Opportunity employer and is committed to equal opportunity and equal treatment. Therefore, Exyte Group provides equal employment opportunities to all qualified applicants regardless of ancestry, gender, sexual orientation, gender identity, race, color, religion, protected veteran or disability status, or genetic information.
veröffentlicht:
läuft aus am