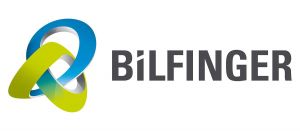 Manager Compliance Awareness & Prevention (m/f)
Bilfinger is a leading international industrial services provider. The Group enhances the efficiency of assets, ensures a high level of availability and reduces maintenance costs. The portfolio covers the entire value chain from consulting, engineering, manufacturing, assembly, maintenance, plant expansion as well as turnarounds and also includes environmental technologies and digital applications.
The company delivers its services in two business segments: Engineering and Technologies and Maintenance, Modifications & Operations. Bilfinger is primarily active in the regions Continental Europe, Northwest Europe, North America and the Middle East. Process industry customers come from sectors that include chemicals & petrochem, energy & utilities, oil & gas, pharma & biopharma, metallurgy and cement. With its 36,000 employees, Bilfinger upholds the highest standards of safety and quality and generated revenue of €4.044 billion in financial year 2017.
---
Tasks
The Manager Compliance Awareness and Prevention is responsible for facilitating a high level of compliance awareness in the organization and empowering management to prevent, detect and respond to compliancerelated concerns. His/her tasks will include assisting the head of the team to develop and arrange compliance trainings and to identify the necessity for new or revisions to existing Compliance policies and guidelines. Furthermore, he/she will be responsible to support the education and the development of the compliance team pertaining to compliance topics and all other activities that will help to ensure consistency throughout the function. He/she will take part in initiating and supporting compliance communications, as well as in fostering the cultural change of Bilfinger towards a value driven company leading by example in terms of compliance and integrity.
Compliance policies and Guidelines
Support identifying necessity for new or revisions to existing compliance guidelines and policies
Ensure consistency between various compliance guidelines and policies
Establish programs that enable the management to implement all compliance guidelines in their respective area of responsibility (region/Division/etc.)
Ensure that the content of new compliance guidelines and policies is integrated into training material and roll out packages
Training
Set up and update training curriculum (frequency, web-based and inperson, mandatory and voluntary, process, etc.) for developed defined target groups
Draft and compile training material for general compliance trainings as well as specific trainings with regards to e.g. gifts and hospitalities, sponsoring and donations, antitrust, third party business, conflicts of interest, money laundering, etc.
Coordinate, design and/or improve suitable compliance web based trainings and ensure their systematic roll out
Oversee the global tracking of employee and third party attendance
Work on a train-the-trainer concept to enable division and local/regional compliance teams to provide compliance
Trainings
Compliance Team Support
Plan and organize team meetings and programs
Identify and support the training and education needs of the compliance organization and the wider compliance Network
Set up/update a yearly compliance plan in coordination with other team members taking into account compliance initiatives, programs, and communication campaigns
Communication and culture Change
Assist the set up/update of a yearly communication plan and embed compliance topics in the overall Bilfinger communication strategy with communications Team
Design meaningful and suitable communication material in order to deepen the awareness of Bilfinger employees
Regularly track and measure compliance communication activities
Help to support top and middle management in providing adequate tone from the top
Achieving "walk the talk" and establishing compliance and integrity as fundamental company values
Compliance Network
Facilitate regular exchange among all functions and local personnel that support the compliance management System
Provide adequate platform for best practice sharing and internal benchmarking
Requirements
In order to meet above requirements, we are looking for candidates with an advanced compliance understanding and experience in compliance training and communications, particularly in dealing with large organizations. The candidate should either be a qualified lawyer or hold an advanced degree with min. 3-5 years of professional compliance experience.
Functional qualification: advanced compliance understanding, especially in the areas of integrity, anti-corruption and fraud (antitrust or data privacy a plus)
Methodical qualification: several years of experience in a compliance function, ideally with focus on compliance training and communications, change management
Language proficiency: fluent in German and English
Would you like to support us in this exciting endeavor in a challenging environment? Then convince us that you are the right person for the position. We look forward to receiving your detailed application
documents, which you can easily upload to our application management system - within about 10 minutes. Please take advantage of the possibility to apply online at the intranet site.
---
veröffentlicht:
läuft aus am